In our last blog, we talked about the future of experiential marketing and 2020 trends. But, be honest, how familiar are you with what the phrase "experiential marketing" means? 
Let's break it down and go back to basics for a minute. The core word within the phrase "experiential marketing" is obviously "experience."  Merriam Webster defines an experience as "a state of having been affected by or gained knowledge through direct observation or participation; something personally encountered." Now consider that in terms of a product, activity, or idea someone is marketing to you. They want you to be fully immersed in the product and brand so you develop a real connection to it. That's experiential marketing! 
"Experiential marketing eliminates the question of whether your target audience is paying attention. When you're right in front of people and allowing them to interact with a new product, let the strength of your offering speak for itself."  – Steve Randazzo, Brand Experiences  
One of the most wonderful things about experiential marketing is that it can work for almost any type of product and engage many different senses. 
Whether you are marketing something you taste….
We had a blast handing out free Sun Drop drinks in the heat of summer. Through this program, we appealed to the taste buds of the consumer while also engaging them in a fun activity (the dance phrase "Drop it like it's hot" was a perfect fit).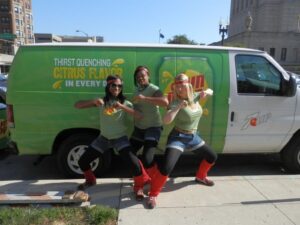 Something you use… 
Who would've thought you could create entire programs and events around the distribution of duct tape? We did! We have had so much fun over the years working with Duck Tape to produce pop up shops, mobile tours, festivals, and everything in between. 
Somewhere you shop…
Tractor Supply Company, a prominent retail organization, wanted to connect with their customers outside the store. For the last six years, we have filled up branded vehicles and created a fun and engaging pop up experience representing the brand at state fairs, county fairs, and festivals all over the country. 
Something you watch…
Our program with Peachtree TV brought family-friendly movies to a giant inflatable tv screen in Centennial Park in downtown Atlanta for people to engage with thousands of their closest neighbors. Now that's an experience that engages all the senses! 
We partnered with KaBOOM!, a national nonprofit dedicated to creating play opportunities for kids and families, and two corporate partners for two successful mobile play tours. What's a mobile play tour? Essentially a big pop-up play event that got kids and families moving and spending a fun time together.
We have worked with so many brands over the last 25 years to bring their products to life and create meaningful connections with their target audiences. As our fearless leader, Steve Randazzo says, "Experiential marketing combines the power of sensory information with effective brand presentations to create positive, lasting impressions in the minds of consumers. These full-sensory experiences exponentially magnify the power of marketing events, increasing the likelihood that a consumer will flip from asking, "Why would I want this?" to exclaiming, "I have to have this!" 
Want to work directly with an accomplished experiential marketing agency with 25 years of experience? Pro Motion is an industry leader in creating engaging, effective campaigns. Give us a call at 636.449.3162.
Learn More About Experiential Marketing from PMI President Steve Randazzo in his book Brand Experiences: Building Connections in a Digitally Cluttered World. Click here to download 2 free chapters!