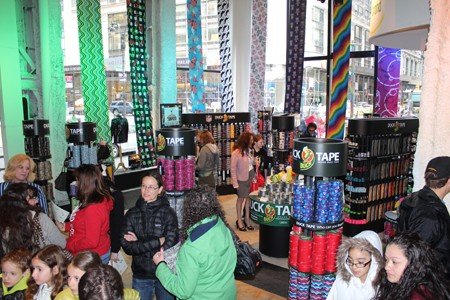 On the heels of the brand's debut on Season 11 of Project Runway, Duck Tape™ sought to truly go "from the roll to the runway". The challenge was to make a splash in the fashion capital of the world, drawing attention to the vibrant palette of colors and designs available from Duck Tape™, positioning Duck brand duct tape as the undisputed creative leader in the duct tape industry.
R

In April 2013, Duck Tape™ and Pro Motion opened the first-ever Duck Tape™ Pop-Up Shop, located at the corner of 40th St and Broadway, in the Fashion District of NYC

R

Pro Motion provided marketing strategies, logistics and operations, including: store staff and management, retail operations and development, permitting, site negotiations, street teams and runway models

R

The Team transformed an empty corner space into an eye-popping, fashion-inspired retail destination

R

Designers from Season 11 of Project Runway kicked off the opening with a Fashion Show, highlighting the brand's appearance on the show
Over 12 days, more than 15,000 shoppers visited the store
The store generated approximately 37.5 million media impressions, including GMA Live, DNA Info, The Gothamist and dozens of trade outlets and magazines.
79% of experiential marketers say in the coming years, live events will become increasingly important to their organizations' success.
2018 State of Experiential Marketing Study