Whether you're pitching the idea to the client or the program has already been sold, at some point the discussion is going to come up to decide what type of vehicle is the most appropriate for your mobile marketing tour. What are the objectives of the program and what message are you trying to convey about the brand?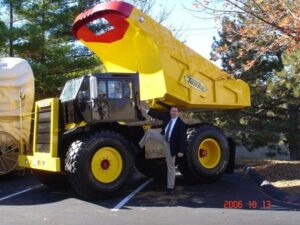 Eye-catching
One type of vehicle to consider is the eye-catching vehicle, such as the classic Oscar Mayer Wienermobile. Or the iconic Tonka Truck. (Okay we may be biased on that one because we created it, but the giant toy dump truck is identical in every respect to the real kid-sized Tonka Truck! It was built for our good friends at Hasbro for the 60th anniversary of the Tonka Truck. It stood at 10.5 feet tall from the bottom of its 500 lb. tires and it tips the scales at just over 6 tons. It was actually highway legal and could cruise at 60 mph. It even had a few TV appearances!) It's likely not practical if you need the experience to include going inside the vehicle but it sure can draw attention and impressions at events and on the road.
Foodie
Does your program plan to sample any type of food or drink? You may want to consider a branded food truck. It will make the set up easy and the vehicle type will obviously connect to the brand in the eyes of the consumer. Also, if you plan to do a local/regional based type of program rather than a cross-country trek, this type of vehicle may be a great option.
Branded trailer and towing vehicle
Is the program going to be a smaller activation, possibly inside a building or retail store? A branded vehicle towing a small branded trailer may be the way to go. For our Sony Pictures Spiderman program, we had a lot of ground to cover. We sent out 17 teams in individual vehicles and trailers to hit 1,000 Walmart activations in 7 weeks.
Double Expandable Tractor Trailer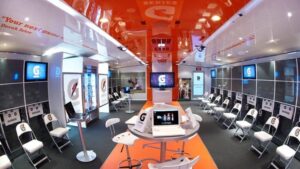 'Go big or go home' is the phrase right? You might want to consider building out an expandable tractor trailer for a truly unique and immersive experience. To promote the Gatorade G-Series products to local high school athletes, we partnered with Fathom to really immerse them in the environment they were familiar with and could also have a fun and engaging experience. We used a double-expandable 53" trailer to create the Gatorade Locker Room and filled it with all sorts of cool and engaging activities. The totally built out trailer made it easy to pull up to the school and have an instant experience.
Box truck
Sometimes, the vehice may not be necessary for the activation, but you do need a lot of space to carry event stuff. For our Play Together Tour with KaBOOM!, we knew we had to move A LOT of stuff for massive play day events from California all the way to Florida. We rented two 26-foot box trucks and loaded them up with all the event essentials that traveled from city to city.