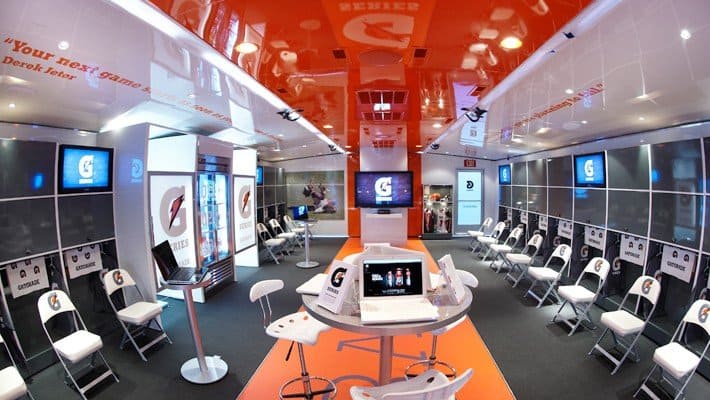 The G-Series – G1, G2 and G3 – was a new line of Gatorade products that provides serious athletes with fuel, fluid, and nutrients before, during, and after athletic activity. To support the product's launch, Gatorade was looking for a niche marketing effort that would integrate well with a grassroots program driving awareness, buzz, and purchase intent among elite high school athletes.
R

Fathom Communications partnered with Pro Motion for the Gatorade G-Series Mobile Locker Room event. Pro Motion managed the vehicle build-out, tour management and activation. The G-Series Mobile Locker Room was a double expandable 53' trailer that traveled to nine hand-picked high schools. A locker room format was chosen because it is the setting for pre-game rituals, inspirational coaching speeches and mid-game and spirited celebrations after the game.

R

The locker room was loaded with amenities ranging from X-Box 360s to satellite radio, Direct TV, Internet stations and a 63-inch Smart Board. Key programming elements included hydration talks, fluid loss testing, chalk talks (high school memories and advice from regional professional athletes), product sampling and social sharing capability through the Internet.

R

School-generated content (school TV, newspapers and video clubs) was engaged to chronicle the G-Series Locker Room events and how their athletes prepared, performed and recovered. All the content was distributed locally and also posted on Gatorade's website to further the program's reach.
The Gatorade G-Series Mobile Locker Room event successfully immersed its specific consumer segment—elite high school athletes—in Gatorade's new G-Series product.
More than 2,500 varsity high school athletes participated, of which 98.8% "strongly agreed" or "agreed" that the G-Series Mobile Locker Room was very positive and worthwhile. Roughly 92.2% of engaged student athletes planned to tell, email or text friends about their G-Series Mobile Locker Room experience, while 86% planned to access or forward content.
The program successfully boosted awareness, buzz and purchase intent among this hard–to–reach segment – 70% of student athletes engaged stated they would definitely purchase the G-Series product.
Overall, the program generated more than 24 million media impressions.
The program was awarded the Second Place 2010 PRO Award from PROMO Magazine for the Best Program Targeting a Micro Audience.