We can give you a bunch of reasons why your B2B brand should be using experiential marketing to stand out in the crowd. But why listen to us when you can listen to our happy clients?
We launched an awesome experiential marketing program with our partner Hussmann, an industry leader in innovative products, services and solutions for preserving and merchandising fresh foods since 1906. To creatively grow brand awareness of new refrigerated display cases with Hussmann's target grocery store audience, we launched the Hussmann Insight Experience Tour. The expandable trailer traveled to locations across 24 cities, including the corporate headquarters, flagship stores, Targets, Walmarts, and other wholesale grocers.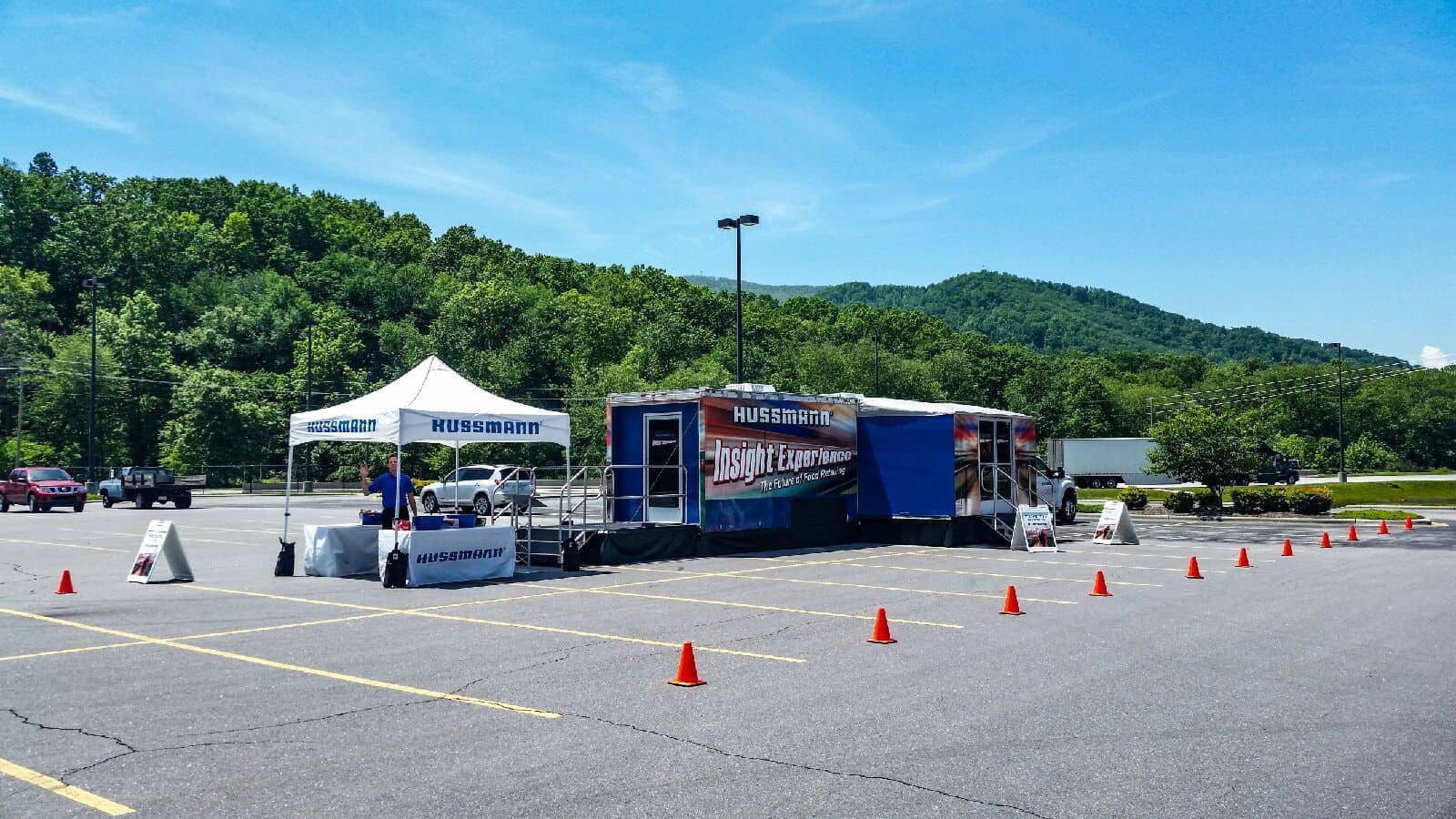 After the program, we reached out to Hussmann for their feedback. A huge success point was the customer service aspect of the tour. Their customers:
"appreciated the fact that we came directly to them. We showed them we know their time is valuable. Walking out of your office and into our display was easy and a big reason we had so many decision makers and support staff experience it."
Another proof point for Hussmann was the ability to get their products in front of new leads, which impacted their sales goals.
"The roadshow helped us to achieve the aggressive sales goals we had for this product line because we were able to get incremental sales from prospects who were not customers or who have not been customers for a while."
At the end of the day, Hussmann could have done a standard presentation or marketing pitch. But where's the fun in that?
"Intuitively, we know we have to continue to find creative ways to get in front of our customers and prospects, and the roadshow strategy delivers."
We also partnered with HP Exstream to bring their new software on the road. After outfitting a 45-foot deluxe motor coach with the latest computer hardware and software, key HP staff traveled to more than 40 current and potential financial services clients in 23 cities. Setting up in each customer's parking lot, this mobile trade show gave HP Exstream the opportunity to show current software offerings and new upgrades in a low pressure, entertaining and comfortable environment.
"Our B2B mobile marketing tour was a great resource for our sales team. It cut the sales cycle in half." It allowed people to engage with the products and see what they're all about.
We helped our partners UPTv and ASPiRE take a motor coach on a four week tour to conduct ad sales meetings with key agencies and brands. They were looking for authenticity in their interactions.They didn't want to appear stiff.
"The motor coach works for us because it provides a concrete engagement and the impact of the face-to-face is fantastic."
Visitors to the coach received VIP treatment with refreshments while they watched upcoming network content on state-of-the-art displays.
"This really helps us stand out over some of our competitors who can spend a lot more on marketing."
We worked with UPTv for five years and produced some amazing results.
"We've done some great work together. Your team is awesome, and we appreciate the partnership."
For the last couple years, Invacare's Mobile Training Lab allowed Invacare sales reps to better showcase their products and educate their clients on the benefits of Invacare. Clients were able to ride over obstacle courses to see the Invacare difference. Adding the "experience" to the sales call increased quotes and sales for Invacare.
"Thank you for all the hard work and dedication. Your team has been a true bright spot for our business. Looking forward to another great year working with you!"
Ready to increase your brand awareness with a B2B experiential marketing program? Contact us today!