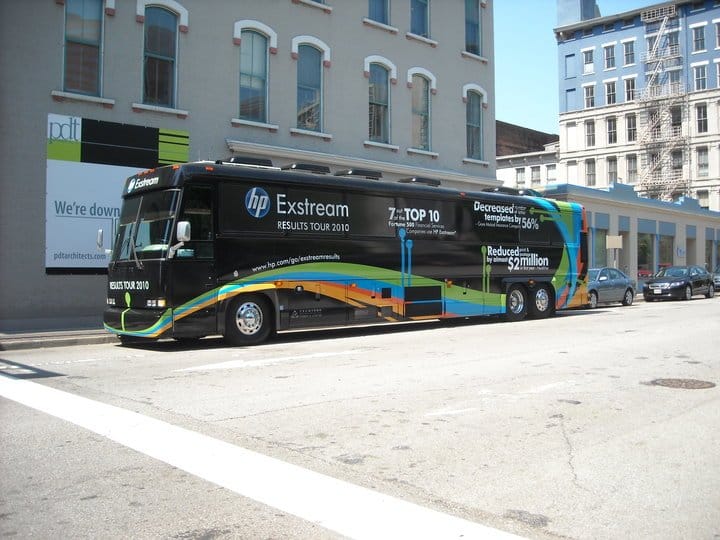 When enterprise software providers try to show current and potential customers their capabilities, standard sales presentations often aren't enough. HP Exstream and Pro Motion Inc., recently took that standard sales presentation to a whole new level with their own mobile trade show, the HP Exstream Results Tour.
R

Pro Motion outfitted a 45-foot deluxe motor coach with the latest computer hardware and HP Exstream software, the non-traditional advertising tour hit the road.

R

Pro Motion managed the logistics throughout the tour.

R

With key HP staff on board, the tour traveled 10,000 miles to more than 40 current and potential financial services clients in 23 cities including New York; Louisville, Ky.; Minneapolis; Des Moines, Iowa and Las Vegas.

R

Setting up in each customer's parking lot, this mobile trade show gave HP Exstream the opportunity to show current software offerings and upcoming new upgrades in a low pressure, entertaining and comfortable "living room" environment.

R

"For Business-to-Business clients, taking their products directly to their customers without the clutter of competition provides the opportunity to really showcase their brands. It also attracts senior level decision-makers who may not go to trade shows," says Steve Randazzo, President of Pro Motion. "We've found this strategy dramatically enhances the return on investment for our clients."
The results far exceeded HP Exstream's expectations.
The Tour returned 10 times the investment in tangible ROI.
From those, nine major HP/Exstream revenue opportunities developed, with several others moving significantly toward completion.
financial services and insurance customers
79% of experiential marketers say in the coming years, live events will become increasingly important to their organizations' success.
2018 State of Experiential Marketing Study