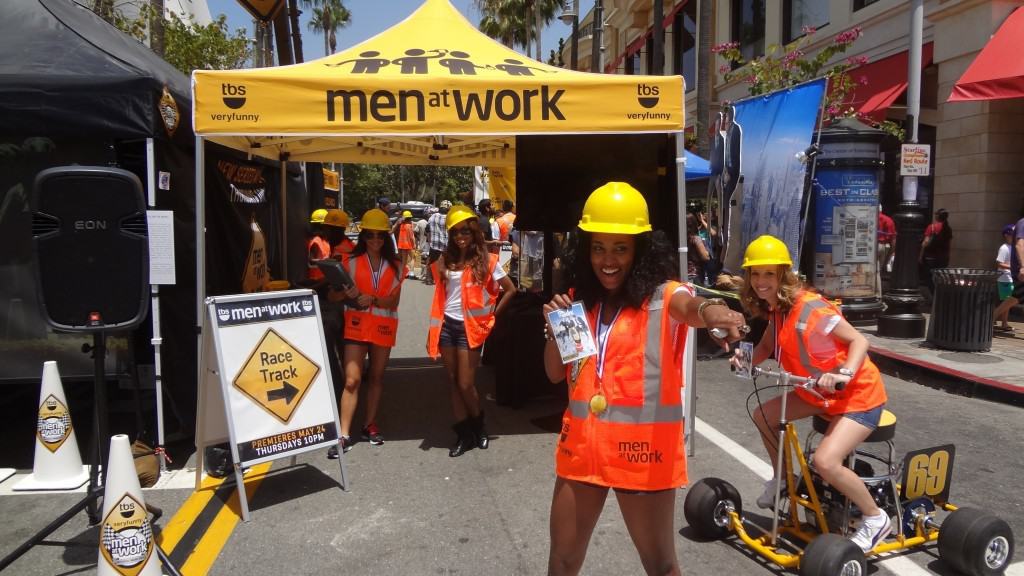 In order to attract the attention of the hip millennial male target demo for TBS' "Men at Work" show, we needed to generate buzz and excitement and create a fun and entertaining experience that would draw participation and provide amusement to on-lookers.
The Grove in Los Angeles was the perfect setting for this exciting "bro-motion"!
R

For this program, we started with pre-promotion by deploying a team of attractive female Brand Ambassadors dressed in hard hats and construction vests to look for fans. These gals visited the hottest bars and restaurants of Hollywood Blvd and Westwood as well as Fraternity Houses on the campus at UCLA. They had one goal in mind – find the men and get them excited about the show and Bar Stool Racing.

R

On event day, fans had the opportunity to participate in the First Annual Men at Work Bar Stool Race. Racers zoomed around the track on motorized bar stools, racing against time for the chance to win a well-deserved 1st place medal and the coveted winner's wreath at the winner's podium.

R

Consumers were also invited to "Hang In There" with the Guys from Men at Work in 2-dimensional spirit. The crew hung out from atop a construction beam, creating one of the highest photo ops ever known to man. Fans received their photo as a print-out and also via email and could share via social media outlets.
The Grove proved to be a great event location for this TV show launch garnering over 12,000 impressions.
344 Bar Stool Racers participated in 85 medal ceremonies with over 4,800 branded premiums distributed.
Hang In There Photo Activation By The Number: 472 photos, 442 emails sent, 502 FB click-throughs, and over 8,000 FB online impressions.
79% of experiential marketers say in the coming years, live events will become increasingly important to their organizations' success.
2018 State of Experiential Marketing Study