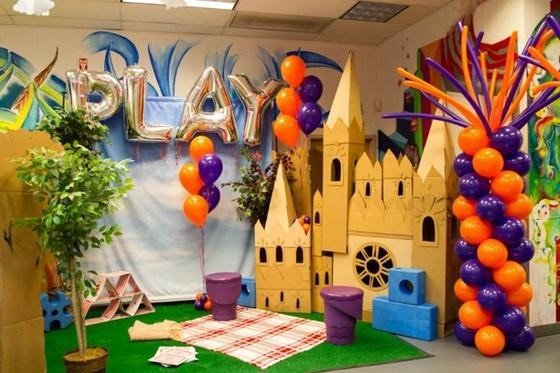 Following their successful experiential tour, KaBOOM! brought together—for the second year in a row—leaders from its most Playful Cities, such as San Francisco, Washington, DC, Pittsburgh, Chicago and more, to engage in discussion with educators and influencers about the barriers that prevent play in urban spaces. The space and activities for the event needed to reflect both KaBOOM!'s mission and the playful attitude of its employees.
R

The "KaBOOM! Playful City USA Leader's Summit," was sponsored by the Humana Foundation. Participants engaged in deep discussion regarding their communities' challenges—crime, obesity, toxic stress, economic development—and real goals and solutions to implement spaces for daily play. KaBOOM! partnered with Pro Motion, Inc. to produce the 2-day event, and to transform an urban community center into a playful space that sparked creativity and play in the attendees.

R

Along with panels and break-out sessions, participants experienced a playful location filled with Imagination Playground Blocks, a giant cardboard castle, picnic blankets on faux grass carpet, card games, and more.

R

Panels and Break Out Sessions
Playability: A Competitive Advantage for Cities
The Wind Up and the Pitch: Team Cities present their goals and ideas for using play to address community challenges
Team City Speed Dating: Team Cities receive expert consultations regarding their goals and ideas
Every Kid Deserves to Play: Group brainstorms about the concept of Play Everywhere
Imagining a Playful Reality
On October 23 and 24 more than 50 city officials from 12 locations across the country gathered in Chicago, IL. They listened to and interacted with 20+ influential speakers, including Darrell Hammond, founder and CEO of KaBOOM!
These leaders shared their inspired ideas with each other and had a playful time doing it!
79% of experiential marketers say in the coming years, live events will become increasingly important to their organizations' success.
2018 State of Experiential Marketing Study