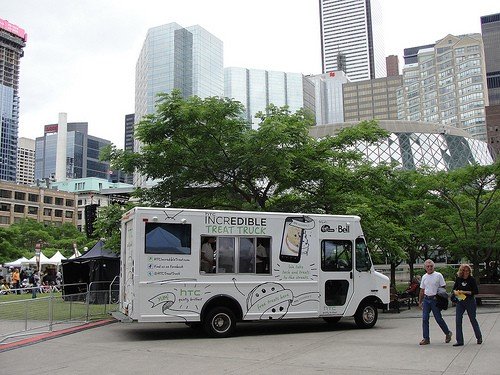 Fathom Communications, HTC's lead agency, partnered with Pro Motion to support the launch of the HTC Incredible S Cell Phone to increase brand identity and handset awareness, engage consumers in 1:1 manner to experience the phone and drive engaged, educated consumers to retail partners.
R

A refrigerated vending food truck was branded and ice cream sandwich treats were distributed to consumers as sweet incentives to interact with the HTC Brand Ambassadors…and, boy did we create crowds!

R

Once consumers were engaged, Brand Ambassadors provided face-to-face personal demonstrations of the phone and all the new features available

R

Inside the treat wrapper was a surprise instant win sweepstakes for free phones and all the collateral contained a strong drive to retail communication for the opportunity to win additional prizes and phones

R

The program was activated in 3 cities in Canada (Vancouver, Calgary, Toronto). Retail store feedback was awesome since consumers mentioned the mobile vehicle tour as to why they were visiting the retailer and the numbers surpassed client expectations and goals!
The Brand Ambassadors engaged 56,558 consumers face-to-face and orchestrated the demo to create thousands of "ah ha" moments
Distributed 24,000 delicious treats and 26,384 informative collateral cards
Public Relations efforts were picked up by local media 5 times leading to over 350,000 additional impressions for HTC and the new S Cell Phone
informative collateral cards
79% of experiential marketers say in the coming years, live events will become increasingly important to their organizations' success.
2018 State of Experiential Marketing Study