Developing a strong relationship between business and customer is essential for any successful company. Yet, a 2018 report by TrustRadius* showed that buyers are looking for more in their relationships with vendors: More listening, more partnership, and more engagement.
"In fact, only 29% of business to business customers are engaged – and 71% are indifferent or actively disengaged! Developing a strong B2B relationship requires planning, dedication, and hard work."**
Luckily, event marketing provides an ideal avenue for building and strengthening B2B relationships. 
We have written previously about how B2B companies are making use of experiential and event marketing to increase sales and customer engagement. Almost 75% of B2B professionals report that the importance of events is increasing, and 67% of B2B marketers cite event marketing as their most effective strategy. 
A Gartner CMO report*** identified "event marketing as one of the top 4 spending areas for B2B marketers, ahead of both social media and email marketing."
How can B2B companies be sure they are spending their money well and getting the most return from events? First, we will discuss the basics of building B2B relationships. Then, we will highlight how event marketing is the ideal avenue for building strong and lasting B2B relationships. 
Focusing on these five basic strategies will allow you to build strong bonds with your B2B consumers:
Focus on problem solving.

Your buyers are looking for someone who can solve a problem for them better than anyone else. Find an unmet need, and execute a solution.

Prioritize value over price. Keep the focus on solving problems and exceeding expectations. Rather than presenting your product or service as a bargain, focus on how you can add value to your customer's business.
Take your time. Like developing any relationship, forming strong B2B connections takes patience. Take the time to have personalized interactions with your customers, and allow trust to build over time. While it may be tempting to cast a wide net and acquire as many customers as possible, it will be more effective in the long run to focus on quality, personalized interactions with each customer.
Communicate your company's story. What does your brand represent? What are you known and valued for by existing customers? Find an angle to humanize your business, and use your company's image to appeal to your customers' emotions.
Bring humanity to marketing. People prefer to do business with other people, so put a face to your brand. Once your brand has a personal relationship with a customer and demonstrates how you add value to their business, the relationship becomes a trusted partnership rather than vendor and buyer. This approach requires more than digital marketing, as "it's easier to connect with fellow humans than landing pages."****
If social media, email campaigns, and other forms of digital marketing are insufficient to build lasting B2B relationships, what else can your company do to form these connections? Luckily, event marketing is ideally positioned to foster strong B2B relationships:
1. Reach more customers, more efficiently. 
Some companies have dedicated support teams to engage and establish stronger bonds with customers. Your company may not have the resources for personalized interactions with each customer. Even with a stellar support team in place, events are well suited for identifying new prospects and forging new connections. 
"For Business-to-Business clients, taking their products directly to their customers without the clutter of competition provides the opportunity to really showcase their brands. It also attracts senior level decision-makers who may not go to trade shows," says Steve Randazzo, President of Pro Motion. "We've found this strategy dramatically enhances the return on investment for our clients."
2. Put a face to your brand.
As we explained above, humanizing your company is key to fostering strong B2B relationships. Two-thirds of B2B buyers expect their interactions with vendors to be personalized.* Events help businesses connect with prospective and existing customers in face-to-face encounters. Event marketing allows you to literally put a face to your brand!  
Pro Motion has experience selecting outstanding tour managers to join your marketing and sales teams, brand advocates, and street team members for your events. The Hussmann Insight Experience Tour demonstrated how one-on-one conversations with key decision makers can lead to success. Being able to see the buyer's journey live and in-person is a huge advantage for any brand.
3. Communicate your message.
Events provide an opportunity to effectively communicate your brand's identity and values to customers. Connecting with your customers on an emotional level will help you build stronger relationships. UPtv (formerly gmc) used the Uplift Someone tour to communicate their focus on providing uplifting messages, and to encourage customers to engage in acts of kindness, which drove action. 
4. Demonstrate your value. 
Events allow your company to give customers hands-on experience with your product. Therefore, event marketing allows you to demonstrate your brand's ability to solve problems. Invacare worked with Pro Motion on two different tours to train customers, who in turn sell the products to end users, in how to use Invacare's products. These demonstrations helped sellers of the product be better positioned to demonstrate the product's value to their own customers.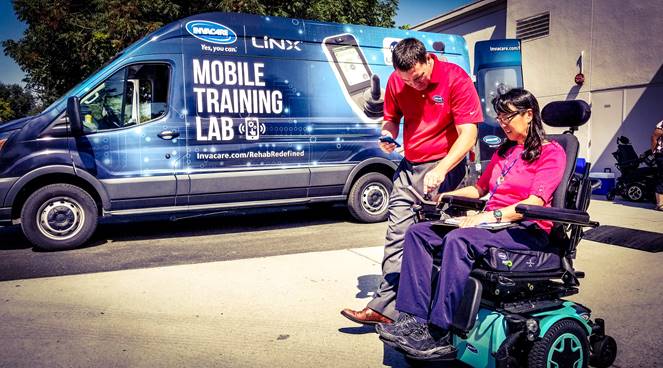 You can read more about Pro Motion's experience with successful B2B campaigns here. 
Want to use event marketing to develop strong and lasting B2B relationships? Pro Motion is ready to help! Call 636.442.1151 today.
References
*TrustRadius 2018 B2B Buying Disconnect: https://go.trustradius.com/2018-B2B-Buying-Disconnect.html?utm_source=vendorsite&utm_campaign=blog
**https://news.gallup.com/businessjournal/190400/biggest-driver-b2b-success-meaningful-customer-impact.aspx
***https://www.gartner.com/smarterwithgartner/gartner-cmo-spend-survey-2016-2017-shows-marketing-budgets-continue-to-climb/
****https://www.salesforce.com/ca/blog/2015/06/build-stronger-b2b-relationships.html