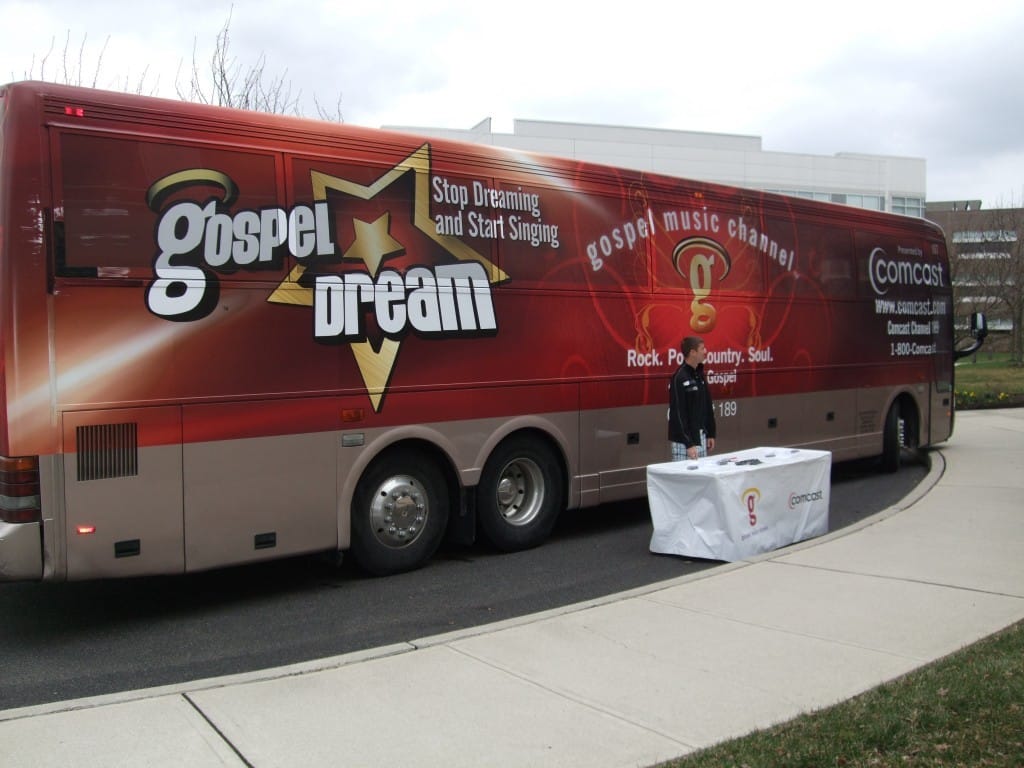 The client, gmc (formerly The Gospel Music Channel), wanted something to serve as marketing incentive with key cable affiliates. This was to build relationships while also providing an uplifting message to subscribers via cause marketing components, communicating their brand positioning to thousands of fans across America, and raising awareness of the gmc brand to both advertisers (B2B) and viewers (B2C).
R

The Ad Sales team launched an "Upfront" B2B tour to promote gmc's new tagline and programming: "Uplifting Entertainment"

R

The team scheduled meetings with potential advertisers and cable affiliates throughout New York City.

R

The Ad Sales team presented programming to gain additional advertising.

R

VIP's were treated to evening hospitality events including food, drinks and karaoke

R

A Pro Motion Tour Manager traveled on the coach to manage tour logistics, event preparation, event set-up and tear-down, assisted the gmc Ad Sales team to activate events.

R

The tour was so successful that a secondary tour was launched to target consumers (B2C), advertisers (B2B) and cable affiliates (B2B).

R

The Uplift Someone America tour bus embarked on a summer-long journey to events across the country, encouraging people to commit uplifting acts of kindness for others.

R

During the tour stops, guests learned how easy it was to uplift others, win prizes, get tips on how to create uplifting moments, and interact with gmc entertainers and artists.

R

The Tour is stopped at consumer events, cable industry tradeshows and ad sales meetings.

R

This was an integrated on-the-ground, online and on-air promotion.
The Upfront Tour's overwhelming successes led to the launch of the Uplift Someone Tour.
The Uplift Someone Tour visited 20 cities and traveled 15,000 miles over 10 weeks sharing the Uplift Someone message.
The program provided over 55,000 onsite impressions, 11,000 one-to-one interactions and 315,000 over-the-road impressions!
79% of experiential marketers say in the coming years, live events will become increasingly important to their organizations' success.
2018 State of Experiential Marketing Study