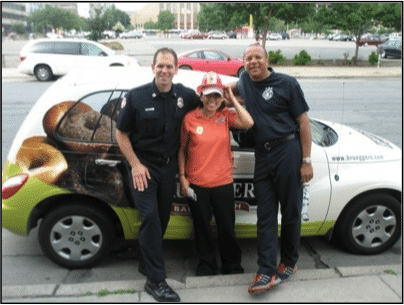 Bruegger's sought to increase traffic to its retail locations. Pro Motion implemented the Summer Street Team as a way to increase awareness and usage by families, businesspeople, and moms, with a weekly focus on 15-24 of the community's unsung heroes, such as police departments, fire departments, libraries, and non-profit organizations.
R

Smart, proactive Brand Ambassador teams in a branded PT Cruiser

R

Street team members distributed amazing coupons, branded water bottles, and branded beanie caps.

R

Teams also distributed Rocket Packs of coffee for morning commuters, farmers' markets, parks, and little league games.

R

Teams also distributed samples, cookies, and bagel balloons

R

Activation in sync with a local media PR campaign recognizing "Bruegger's Heroes"
Lift in customers
Coupon Redemption
Local Media Exposure
An outpouring of support from the community in the form of notes, cards, and pictures
79% of experiential marketers say in the coming years, live events will become increasingly important to their organizations' success.
2018 State of Experiential Marketing Study