Congrats! You've just landed a client that wants to execute a mobile marketing tour. There's going to be a lot of decisions to make. Where to start and what questions should you ask?
We'll start with the biggie…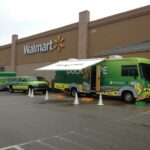 What kind of vehicle do you want representing the brand?
Is it a food or drink sampling program? You may want to consider a food truck to serve samples out of at pop-up events.Going for practical? Consider a basic trailer or wrapped box truck with colorful graphics. Maybe you are going for more "wow factor" than practical use? Consider a totally unique and built out vehicle that represents your brand. There are so many options out there!
Do people go in it as part of the experience?
This will determine the size and build out of the vehicle. If you just need to get the event materials from one place to another, you could consider a wrapped box truck or tractor trailer. If you want to build out the inside for hands-on experiences, you could consider a renovated charter bus or other large vehicle with multiple doors, like our Duck Tape program.
Should you lease or purchase the vehicle(s)?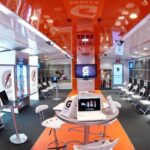 This decision varies from program to program and client to client. If it's a pretty short program, such as weeks or months, it's likely better to just lease the vehicle for the duration of training and the program. if you have a program that's going to be out in the field for years, it's probably worthwhile to purchase. Also something to consider, depending on how much you want to customize the vehicle, you will likely have to purchase it.
What is a CDL and why does it matter?
A CDL is a commercial driver's license. If trucks or trailers have a certain weight, then a CDL is required. As it relates to your brand's vehicles for the mobile marketing tour, it's best to find that person with a CDL because you know they have extra training and their experience will ensure that you have safe drivers.
What are you looking for in a Tour Manager and Brand Ambassadors for this mobile vehicle program?
This group of people is not only going to be executing your client's events, but they will also be representing the brand (and your agency) as a whole. Check out our tips for hiring the best tour manager for your mobile marketing tour.
Once you've considered these questions and their answers, you can start to get to work on producing a successful mobile vehicle tour!