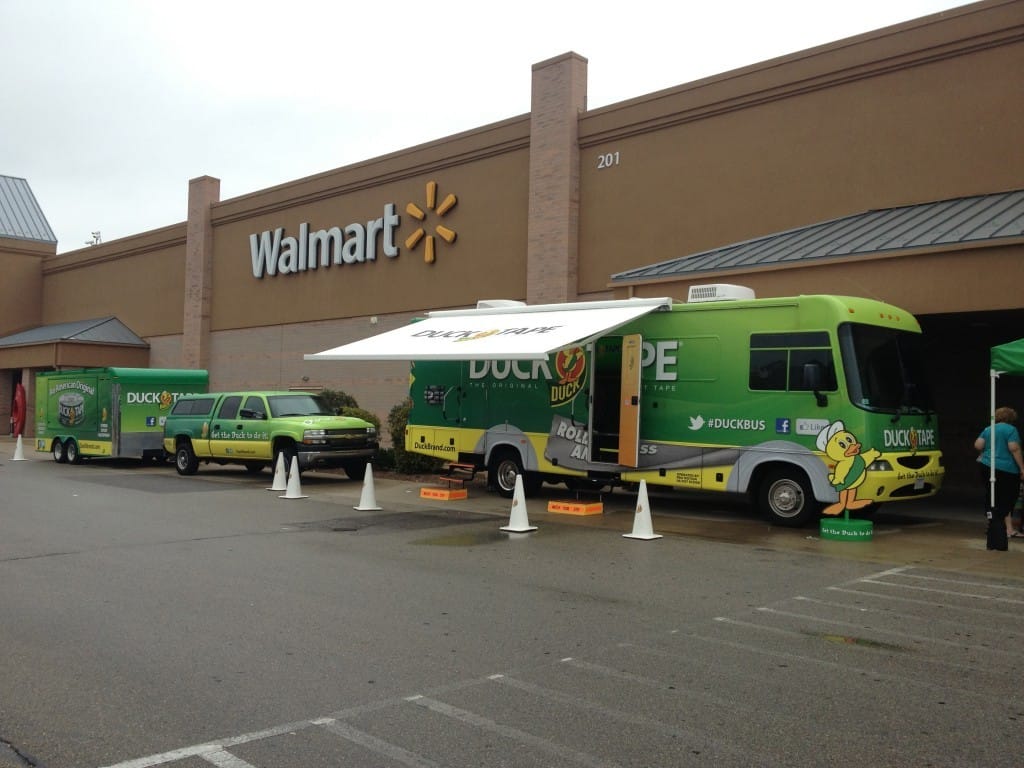 Over the past years, Duck Brand® Duct Tape has introduced over two hundred new prints, patterns, and colors and has added a new customer base – the Crafter. Duck Tape® was looking for a way to engage these consumers, promote the Duck Tape® message and bring the brand to life with interactive and high-touch experiences.
R

The Duck Tape® Rolls Across America Tour is designed to create brand awareness and consumer engagement, gain mind share across multiple channels (consumer, trade and media), and drive sales at retail locations. The custom, bright green, 31' DuckBus is making its' way across America to duct tape enthusiasts of all ages. The mobile marketing tour experience features a variety of fun, interactive activities – both inside and outside the bus.

R

Inside the Duck Bus includes These Activities:
iPad stations and a touch screens allow guests to interact with all-things Duck Tape®, learn about how the product is made, see just how strong it really is, and watch tutorials about how to make fun "Ducktivities."
A Fan Photo Wall features a photo collage of the amazing and unique Duck Tape® craft projects shared by fan.
Duck Tape® Fashion includes 2 stylish mannequins adorned in one-of-a-kind Duck Tape® formalwear.
Duct Tape Timeline wall – Has information for anyone who has ever asked "What's the difference between "duct" tape and "Duck" Tape; or "When was duct tape first invented?"… along a 7 foot timeline!
R

Outside the Duck Bus Includes These Activities:
Life-Sized Sculptures – Take your picture with life-sized Duck Tape® sculptures and cut-outs, including Hello Kitty®, SpongeBob SquarePants® and more.
Ducktivities™ – Once you've been inspired by all things Duck Tape®, craft something yourself! Duck Tape® devotees can try their hand at making their very own take-home Duck Tape® craft. This mobile marketing display has something for everyone!
With the successful Duck Tape® Rolls Across America Tour heading into its 4th year, the program continues to engage thousands of consumers all across America and we're heading back into Canada in 2015

Over 123 cities visited and over 33,000 miles traveled and counting

Over 3,481,000 impressions as the bright green Duck Bus travels down the road with millions more tabulating right now

Over 115,000 consumers have been engaged via face-to-face interactions during 260 events days so far
79% of experiential marketers say in the coming years, live events will become increasingly important to their organizations' success.
2018 State of Experiential Marketing Study