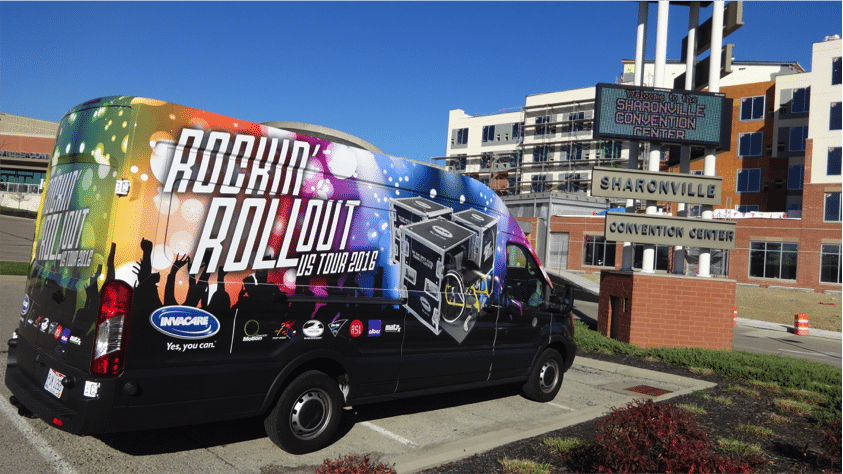 The stage is set, the bright lights shine on the audience, the music is loud and clear, and the concert begins!
We rocked and rolled our way into results in our latest experiential marketing tour with Invacare, the world's leading provider in wheelchair and home healthcare products.
Our goal: to allow Invacare reps to offer clients a one-on-one interactive experience with the company's fleet of innovative wheelchairs while demonstrating unique product benefits. The unique theme allowed for a fun, exciting experience for all involved.
Let's take a look at some highlights from this A-lister event.
40 City Tour Boasting 50 Rocking Events
This 3½-month tour spanned 40 cities across the East and West Coasts. After hosting 50 total events, Invacare received rave reviews from attendees, who enjoyed learning about Invacare products and attending CEU training.
One guest said, "I can't believe they (Invacare) went all out like this.  I mean, a lot of companies offer the classes… but this is really above and beyond."
Guests also loved the Rock and Roll theme, which included a rock concert ambience, food and drinks, interactive experience, and a fun photo op.
Impressive "Rolling" Results
Mobile tours offer the unique opportunity to gain valuable vehicle impressions while on the road. On the Invacare Rockin' Rollout tour, our team gained 4,292,210 vehicle impressions with their branded sprinter vans.
The bright designs were eye-catching, as they "rolled" their way across the East and West Coats.
Rock Concert Worthy Crowd
The Invacare tour boasted a 65% attendance rate, bringing in a large number of guests to each tour stop! The crowd loved the experience, and found that their attendance at the event was extremely beneficial.
We rolled our way into results with this mobile-friendly tour. Hard work pays off, and we could not have had such an amazing event without our team here at Pro Motion, and dedicated brand ambassadors. This rock tour may be over, but our team isn't done creating the best events in experiential marketing!
---