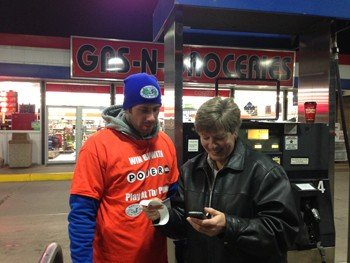 Linq3, in partnership with the Minnesota State Lottery, was launching a never-before-seen way to play the lottery, allowing players to play Powerball and Mega Millions at gas pumps and ATM's across the Twin Cities. The MN's lottery Play at the Pump and Play at the ATM event was designed to create awareness, buzz, and trial around the launch of the Linq3 software for the Minnesota State Lottery; serve as eyes and ears for Linq3 throughout the launch process; provide a memorable and positive experience for consumers; educate new users on how easy it is to purchase tickets; develop strong relationships with the retailers participating in the program; provide oversight at fuel pump locations to ensure no underage consumers purchased a lottery ticket.
R

Brand Ambassadors provided promotional and technical support in order to facilitate a successful first launch for all stakeholders: gas stations, bars/restaurants, players, the Minnesota State Lottery and Linq3.

R

For 2 months, Brand Ambassadors spent time at 9 gas stations and 15 bars/restaurants, introducing patrons to the new way to play the lottery.

R

In order to have at least one person at each gas station for 16 hours/day, 7 days/week over 8 weeks, Pro Motion recruited, trained, scheduled and managed more than 60 Brand Ambassadors for the program.

R

Pro Motion implemented a real-time reporting process that granted technology partners immediate access to time-critical information from the field.
Brand Ambassadors interacted with more than 250,000 Minnesotans.
Transactions from Play at the Pump and Play at the ATM event increased each week, growing more than 350% from week 1 to week 8.
Brand Ambassadors also provided invaluable "eyes on the ground" as Linq3 and their technology partners went through the installation and troubleshooting processes.
Four local television news stations and several radio stations featured the Play at the Pump and Play at the ATM event on-air, generating millions of additional impressions.
79% of experiential marketers say in the coming years, live events will become increasingly important to their organizations' success.
2018 State of Experiential Marketing Study