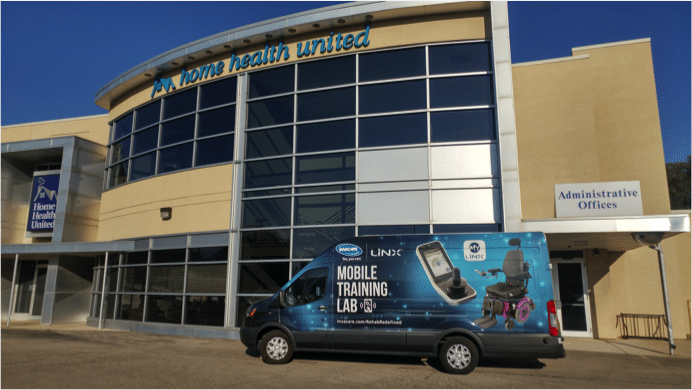 Invacare—the world's leading manufacturer of wheelchairs, bariatric equipment, disability scooters, respiratory products, and other homecare products—needed to launch their new LiNX technology across their rehab division quickly and efficiently. With the ever-changing advances in technology in the health industry, Invacare was seeking a way to further increase brand awareness and preference, particularly with their new products. They also sought to build relationships with contacts in the medical field, generating excitement and training them on new technology.
R

The Invacare Mobile Training Lab Tour turned customers' CEUs into an opportunity to have face-to-face sales and training appointments.

R

The Tour utilized four custom-wrapped vans in four regions of the country in order to maximize their footprint, visiting 286 markets in just two months.

R

Pro Motion's Brand Ambassadors traveled with demo chairs to Invacare's customers who sell wheelchairs to end users, and demonstrated the ways in which the Invacare line has improved and outperforms competitor brands.

R

In house support created a detailed schedule to make sure that the Invacare team could reach as many people as possible with the mobile training lab.

R

Each activation allowed the local Invacare reps to not only train on the new LiNX technology but also give their providers a hands on experience with the new chairs. Clients were able to ride the chairs over obstacle courses and compare to the competition.

R

This experience really showed the "Invacare Difference" and strength over the competition.
The Invacare Training Lab vehicles were well received all over the country.
The sales reps were pleased with the one-on-one engagements they were able to have with their customers.
The Specialists and customers were happy with the personal, face-to-face meetings with their Invacare sales reps and the ability to have a hands-on training experience.
79% of experiential marketers say in the coming years, live events will become increasingly important to their organizations' success.
2018 State of Experiential Marketing Study