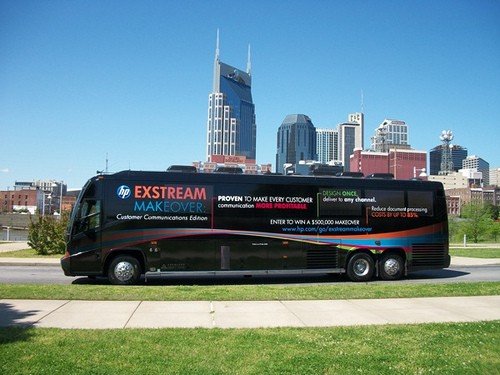 Create awareness and preference for the HP Exstream Enterprise Document Automation Software
Generate qualified leads for HP Exstream sales team, resulting in sales and pipeline development
R

Feeding off of the success of the HP Exstream Results Tour the b-to-b program went back on the road with a few new features.

R

A brand new motorcoach was secured for the Tour. This coach had an awning that served as cover for the outside set-up.

R

Additional signage outside the set-up helped welcome guests at the registration point prior to boarding the motorcoach.

R

Velvet rope and red carpet was used for VIP guests to set the stage for evening hospitality events and meetings.

R

A Pro Motion Tour Manager traveled on the coach to manage tour logistics, event preparation, event set-up and tear-down, client registration and assisted the HP Client Executives, Account Managers and the marketing team to activate events.
The Tour was activated for 8 weeks, visiting 21 cities across 10,000 miles.
The Marketing and Sales teams scheduled 43 meetings and 2 tradeshows (ACCORD LOMA and HP Discover Americas).
The HP Exstream Makeover team met with 891 Financial Services, Insurance and Utilities customers and prospects on the coach.
The program tripled the sales pipeline and cut the sales cycle in half.
79% of experiential marketers say in the coming years, live events will become increasingly important to their organizations' success.
2018 State of Experiential Marketing Study