People are more interested than ever in engaging with social and environmental causes. The numbers back it up: A Pew Research report* found that more than half of Americans have engaged in some form of political or social-minded activity on social media in the past year. Particularly as our country faces many social struggles, individuals are searching for causes to donate to, but also ways they can actively use their time to support causes they care about. 
In our first post in this 3-part series, we introduced the concept of consumer activism. Unlike more passive forms of corporate social responsibility (CSR), activism – it says it in the name! – actively involves customers in a social cause. Keep reading for advice on how to inspire customers to engage alongside you in civic engagement. 
Make a Trade
Think about most of the advertisements and marketing you see on a daily basis. It is common to see giveaways, promo codes for discounts, free shipping — but there is almost always a "catch." If you want free shipping, you better spend $100 first. To be eligible for this giveaway, tag 5 of your friends on our social media post. These aren't trades – they're bribes. What's the difference? A bribe is one-sided, with the benefit for one party far outweighing the other. A trade is a fair exchange. Both parties emerge with something useful, and everyone wins!
Why does this matter? Honestly, bribes don't work. Consider the classic buy-one, get-one-free offer. Sure, that may grab you a few customers. But if potential customers aren't really sold on just one of your products already, throwing in an extra isn't going to make them overcome their hesitation. This approach doesn't lead to loyal customers or brand fanatics. In contrast, showing that your brand aligns with your consumer's values by promoting a worthwhile cause can inspire brand loyalty. This is especially true for consumer activism – the key here, as it often is, is the experiential aspect. Customers who are inspired to volunteer with your company will associate the good feelings they get from helping a cause with your brand. 
Example: "Give A Day, Get a Disney Day"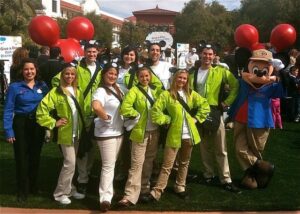 Pro Motion assisted Disney Parks with an experiential CSR program called "Give A Day, Get a Disney Day." The opportunity entailed volunteering for a full day at one of several participating charities across the country and receiving a free day at Disney in return. Disney's goal was to inspire 1 million to volunteer in the first year of the campaign. That goal was met in 67 days!
Why was the campaign so successful? For one, this wasn't a bribe – to earn a free ticket, consumers had to commit 8 hours to a cause. Given the time commitment, it is likely that only those who truly cared about the causes they were volunteering for would give up their time to order a free ticket. Their passion for a cause was then positively associated with Disney, and Disney showed they cared about the same issues. 
Maybe you're thinking "Wow, Disney gave away millions of dollars in free tickets in less than 3 months! How is that a good trade?" True, Disney did not gain any profits from those free tickets. Disney's primary goal was to promote volunteerism in the US. However, they met a secondary goal as well — driving traffic (sampling) to their theme parks. While locals may use a day trip single ticket to Disney, most volunteers were more likely to book a multi-day trip. Also, most visitors to Disney parks don't travel alone — any friends or family who joined them on their trip would have to purchase a ticket. During their time in the parks, these 1 million customers who earned their free tickets most likely spent money on food, drinks, and merchandise. Overall, this promotion was a win for all involved:
Customers didn't feel tricked into spending their money — the trade felt fair

The offer was personal — Customers were empowered to choose causes they cared about

Disney benefited from the emotional connections it formed with customers, and still earned money in the process
Hopefully this example helped you see how consumer activism isn't just a "feel good" activity or a box to check — it can be profitable, and it creates those important connections that lead to brand loyalty. 
Pro Motion is here to help you create a campaign that ignites a passion for your customers. Call us today at 636-577-8507.
Check out Chapter 9 of Steve Randazzo's Amazon Best Selling book, Brand Experiences: Building Connections in a Digitally Cluttered World. Click here to download 2 free chapters!
References
—————————————
*Pew Research Center (2018). Activism in the Social Media Age. https://www.pewresearch.org/internet/2018/07/11/public-attitudes-toward-political-engagement-on-social-media/